SDMyers Transformer Maintenance and Testing
Maximizing the effective, reliable life of your transformer equipment.
Since 1965, we have pioneered transformer management with the highest quality in service and products.  With our founder's vision for life extension of the most critical asset in your electrical system – the transformer – we are committed to being an advocate for our customers. We hope you find the content of this site helps you connect your ever-growing needs with the right solution – our team.
To remain competitive in today's economy, your organization needs RELIABLE, LOW COST and UNINTERRUPTED POWER. Due to aging equipment, increased load demands, and less time and money available for preventive maintenance, the risk of transformer failure will continue to increase. In addition, key personnel who understand this risk and who possess the knowledge and expertise to make a difference are a scarce commodity today. The need for planning and preventive asset management principles is more prominent than ever to reduce your company's risk of lengthy downtime and significant revenue losses.
We've updated the Transformer Dashboard! Find out more about:
Enhanced Views & Navigation
Online Monitor Services
Chemical, Mechanical and Electrical data
Dashboard Summary Reports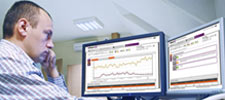 We have developed a fault gas monitoring program that is both cost-effective and professionally analyzed. Learn more about Guardian Monitoring from SDMyers. 
Check out the newest feature of our website – the Customer Portal...
In an effort to provide our customers with access to valuable information at a quick glance, we have created a custom area for our customers to view a quick summary of their recent test results, order statuses, privileged access technical articles and educational information. In addition, we will have information and updates available to each customer that is specific to their needs that will help them in making the best decisions regarding the reliability of their transformers and how to extend the life of their units. If you are a customer of SDMyers and would like more information about accessing the Portal, please contact us at 330.630.7000.
At a Glance