In our industry, there is an ever-increasing need to have instant access to critical information to make intelligent, cost-effective decisions.
Our solution to this need is Transformer Dashboard. SDMyers' Transformer Dashboard provides the one place for you to easily access and manage your transformer information. More than web-based software, Transformer Dashboard is backed by more than 47 years of testing data and field service expertise.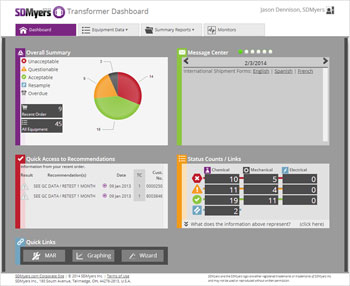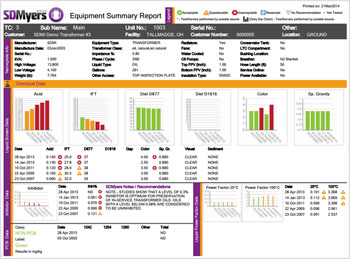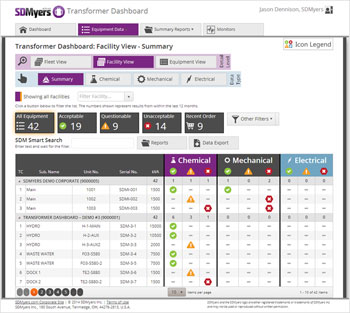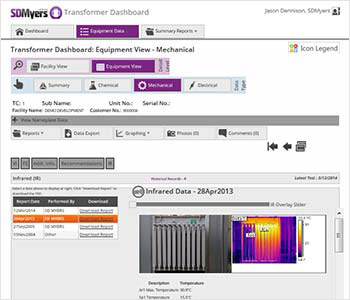 Newest features in the latest release:
INFRARED SCANNING – Complete IR Report history available with image scans, report analysis and recommendations. Downloadable PDFs available of each IR report, and convenient photo-to-scan image overlays with interactive slider feature.
CHEMICAL, MECHANICAL AND ELECTRICAL ANALYSIS – Summary and detailed analysis of Chemical, Mechanical and Electrical test data for your transformer or fleet of transformers.
INTUITIVE USER INTERFACE – Enhanced layout and graphics to increase your efficiency in navigating the Dashboard.
GAS MONITORING INTEGRATION – Available with Monitor Guard Service and Monitor Connect, your fault gas monitor data is accessible 24/7.
GRAPHICAL REPORTING – Filter multiple criteria, sort data by priorities and create customized graphical reports which are easy to read.
The benefits of Transformer Dashboard include:
THE DASHBOARD – Intuitive navigation to quickly identify problem equipment. View your equipment list with test and analysis summary, view recent orders, generate reports, and much more.
WEB BASED – Anytime, anywhere, 24/7 by multiple users.
REDUCE TURNAROUND TIME – As soon as testing is complete, you will receive access to your posted results rather than waiting for printed reports in the mail.
CUSTOMIZE YOUR REPORTING – Ability to sort on multiple transformer criteria (including serial number) and sort priorities specific to your needs. Print and save the reports you desire, knowing that the rest of your data remains instantly accessible through Transformer Dashboard.
MULTI-LOCATION / MULTI-USER ACCESS – View Transformer Dashboard data the way your company is organized.
MULTI-FUNCTIONAL GRAPHING – Graph your test data to examine and interpret trends and changes.
TEST RESULTS – Details presented on each test performed. Data stored in one location on our secure server and never purged.
EXPERTISE – Receive clear and accurate diagnostic analysis and recommendations for each transformer.
EQUIPMENT PICTURES – View and upload pictures of your electrical equipment.
CUSTOM COMMENTS – Enter specific comments for any piece of equipment in the database.
VIEW, PRINT AND MANAGE YOUR MAINTENANCE ASSESSMENT REPORTS (MAR).
VIEW, PRINT AND MANAGE OTHER SPECIALIZED EQUIPMENT TEST REPORTS.
Please feel free to contact us by email at transformerdashboard@sdmyers.com.