SDMYERS HAS BEEN A PIONEER IN TRANSFORMER MAINTENANCE TRAINING SINCE 1975

In 2009, we developed an Enhanced Learning program to provide our customers with improved learning concepts, better problem-solving skills, and on-the-job knowledge tools. In response to your feedback throughout the years, we have made great improvements to our Enhanced courses here at Tallmadge that are allowing us to meet your requests and suggestions.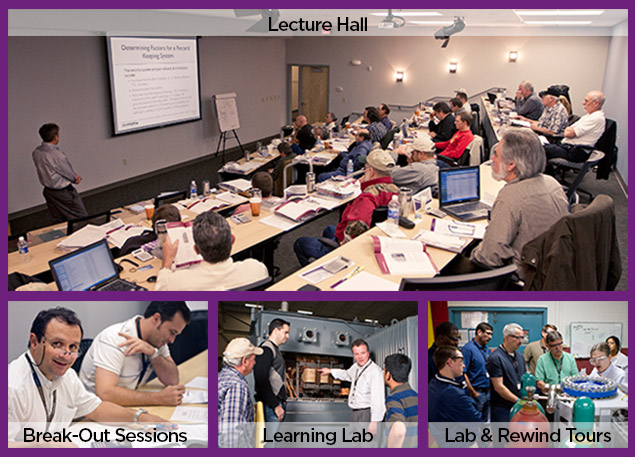 BENEFITS
Course progressions for students to build knowledge from fundamental concepts through advanced and managerial competency.
Course options (electives) that are job-specific to expand your particular area of expertise.
Better analytical skills through the use of practical application exercises, case studies, and group breakout sessions.
Better understanding of transformer operation with tours of our transformer equipment lab.
Interactive learning through electrical test demonstrations in our equipment lab as well as a rig demonstration.
FEATURES AND ADVANTAGES
State-of-the-art Lecture Hall with comfortable tiered seating, laptop power at every seat, professional sound, lighting, and multimedia presentation equipment.
Tour of a transformer remanufacturing facility where you will see the rewind and repair process of failed transformers.
Interaction with multiple transformer experts including our instructors, engineers, and lab technicians.
Information resources and reference materials such as our Transformer Maintenance Guide, course textbooks, and online resources.
OUTCOMES
You will be able to verify your understanding and retention at the end of the four-day required learning by taking a knowledge assessment. You will be provided with practical on-the-job reference tools designed to aid in test result analysis, ordering additional tests, failure analysis, and advanced maintenance planning and prevention.
Access to online resources such as technical articles, videos, standards information, and peer & expert networking, will be available at the completion of the course to assist you with further independent learning.