DryMax® Moisture Reduction Equipment
DryMax® Moisture Reduction Equipment
ELIMINATE THE HIDDEN THREAT OF COSTLY DOWNTIME with DryMax®
Reliability isn't a game, and putting your entire production system at risk is no joke. That's why SDMyers takes your transformer's moisture content seriously. Utilizing proven DryMax® technology, we can help develop a DryMax Moisture Reduction Plan (DMRP) that proactively protects your critical electrical assets from irrevocable water damage.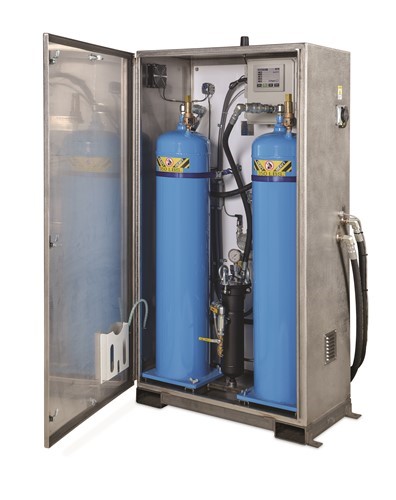 How Does DryMax® Work?
DryMax is an energized online dryer solution that connects directly to your live transformer for as long as it takes to completely remove moisture – while your transformer stays put and in service. Upon installation, it immediately starts preventing further degradation of your paper insulation to improve your reliability. Along with a trusted service agreement, the DryMax solution offers:
Effective moisture removal for both oil and paper
Remote monitoring and control
Flexible solution packages
50+ Years of SDMyers transformer expertise
Can I Use Another Method?
There are four primary methods of transformer moisture removal, but their effectiveness varies considerably. DryMax is the only solution that dries out the paper without taking your transformer out of service.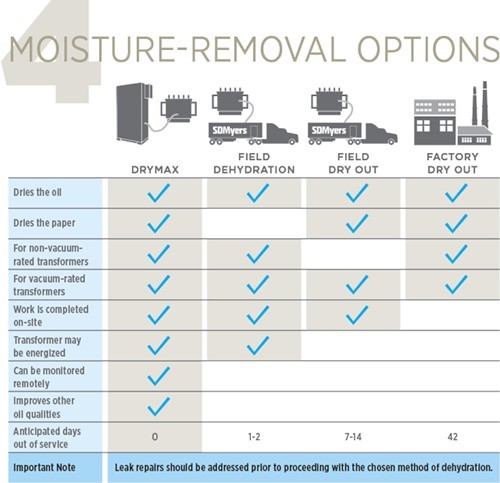 The longer you wait, the more you risk.
Moisture is more than a threat – it's the enemy, and one that is actively attacking your transformer. If left alone, or treated improperly, a wet transformer faces a significant risk of failure. Check it out: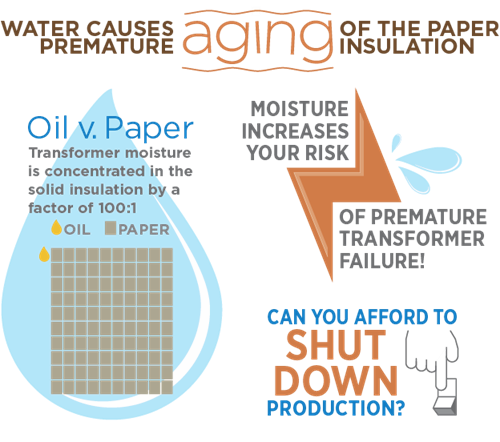 How Do You Get Started?
Excessive moisture contributes to component degradation that can suddenly and permanently end the life of your transformer. A DryMax® Moisture Reduction plan tackles moisture holistically and aggressively, protecting your entire fleet for its entire lifespan without a single day of downtime.
Such a comprehensive approach involves monitoring and removing the moisture from your transformer until the PPM reaches and acceptable and stable level. 
A fleet-wide plan can include both service-only dryouts and DryMax ownership to meet the needs of your equipment, typically involving a combination of the following programs:
Service-Only Program
Recommended if you have multiple transformers with immediate needs
All the benefits of remedial moisture reduction without the long-term commitment of multiple unit purchases
The same dedicated service from SDMyers as ownership programs
Permanent Installation Program
Recommended for critical transformers and equipment under extremely demanding loads
One transformer, one DryMax
Dedicated DryMax unit and service package
Installed for the lifetime of the transformer
Mobile Installation Program
Recommended for customers with multiple wet transformers
Addresses needs of the entire fleet
Removes and refits your DryMax units to multiple transformers as needed
Equipment Redeployment Program
Recommended for customers who already own a DryMax unit
Updates your unit with a remote monitor
Services and installs unit with a full-service plan
Current DryMax Customer
"The DryMax unit has met my expectations on what I was trying to accomplish in drying the transformer. I would highly recommend this unit for anyone who needs to remove moisture from their transformers."
Gene Bell,
Maintenance Manager
Gerdau Ameristeel Vidor, Texas